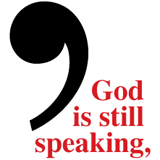 The comma constantly reminds us of God's boundless love and reminds us that God is still speaking and that God speaks in multiple ways. The comma carries the hope of God's peace with justice; of religion relevant to our unique experiences; of the new light and truth still to break from God's word. The comma reminds us that on our continuing faith journeys, God is still speaking.
Today, under one collective identity, we can enthusiastically lift up that the UCC is a welcoming, justice-minded Christian community. At a time when religion is too often portrayed as narrow-minded and exclusive, many are raising their VOICES for an alternate vision:
– Where God is all-loving and inclusive
– Where the Church of Jesus Christ welcomes and accepts everyone as they are
– Where your mind is nourished as much as your soul
– Where Jesus the healer meets Jesus the revolutionary
– Where together we grow a just and peaceful world
For more information, click the comma.
If you're looking for an outside perspective into our denomination, try this link to Rev. John Shelby Spong's blog article about his recent visits to several UCC congregations.