Growth * Knowledge * Inspiration
Growing in the Christian faith is never-ending.  Mayflower offers educational opportunities for all ages.  The goals of the educational program at Mayflower include: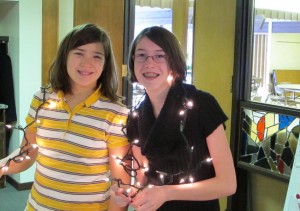 to foster a climate of love, trust, acceptance, disclosure, responsible freedom and shared ministry
to build a sense of family on a journey, finding the joy of growing and discovering
to nourish the love of learning, the search for truth and the ability to create
to welcome diversity in the pursuit of unity
to acknowledge and appreciate the spiritual dimension of personality
to understand the cost of discipleship, the role of a suffering servant, and our membership in the world family and
to enjoy being alive in the presence of God
Adult Christian Education
*  Bible Study–Sunday mornings at 9:00 a.m. a class on a variety of topics and themes is held. This half-hour class meets in the Fireside room and is facilitated by laity and clergy.
* Lenten Series–During Lent, study programs are provided on a variety of topics around a chosen theme.  Clergy and Laity leadership provide a time of feeding our bodies ( a light meal is provided)  and nourishing our souls.
*  Prayer Group–is available every Tuesday from noon-1:00pm in the Fireside Room.
* Open Forums–Throughout the year, forums (generally following the worship service) are offered.  There are also opportunities to enjoy short (2-5 week) sessions offered by laity and clergy.
Sunday School
ARK  (Amazing Rotating Kids)Is a unique offering of Bible study brought to life in creative and visual opportunities.  Through drama, storytelling, artisitic creation and discovery activities, the children learn about the stories of the Bible.
Classes for children at Mayflower begin at age 2 and continue up through high school.
Each Sunday the children attend the first 10 minutes of worship with their parents and then leave for an all church school gathering which includes an offering.
The Sunday school supports, as a special mission project, The Angel Fund which helps the Billings area schools provide essential items for students who are in need (clothing, medicine, etc).
The youth sponsor the Valentine "Sweetheart Dinner" by cooking and serving this special meal. Entertainment is provided!  A special photo of each "sweetheart" is taken.
A variety of programs and activities are scheduled during the year. The children conduct the worship service on Youth Sunday, plan a Christmas program, and participate in worship services as readers, greeters and acolytes.
Confirmation
Confirmation is for eligible students, as determined by the clergy.  It is generally offered every other year.
Youth Activities
*Youth Group — Mayflower and First Congregational Youth Groups, Grades 1-12, meet each Wednesday, alternating locations.  Youth grades 1-6 will meet at 4:30 and stay a dinner at 6:00 pm with ALL YOUTH. Youth grades 7-12 will meet at 6:30.  A full schedule of youth group meetings and events can be found on our calendar.
*Camp Mimanagish–is the Montana-Northern Wyoming UCC Conference camp located on the beautiful Boulder River.  A variety of camps are held for different grade levels each year.