Mayflower's Missions & Community Outreach
Mission is an important component of the fellowship at Mayflower. We are a strong supporter of the United Church of Christ's "Our Church's Wider Mission" (www.ucc.org/ocwm) contributing over $17,000 each year.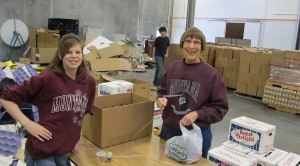 In addition, we support many local mission projects.
The Church participates in the American Cancer Society Relay for Life, each year. A team of 14-18 people walk during the event. Members have supported this event for many years.
The church hosts families for Family Promise of Yellowstone Valley every 11 weeks.  Homeless families stay at the church for a week. Members and friends donate hours to help with the children, cooking, teaching and spending overnight with the guests.  www.billingsihn.org
The Food Bank of Billings receives much needed support of time, food and financial support. The first Sunday of each month is dedicated as Food Bank Sunday and members work at the Food Bank each December to restore shelving and provide assistance where needed. www.billingsfoodbank.com
Habitat for Humanity The church has helped to build several homes and continues to express interest in this Christian housing ministry. Many members  continue to volunteer at new Habitat homes or serve lunches for carpenters at homes being built in Billings.  www.billingshabitat.org
Mayflower continues to be active in Concern, Inc. The organization came into being because of similar interest and concern to provide good and affordable housing for handicapped and elderly low income persons. Big Sky Apartments was built in 1966 and Prairie Tower in 1978. Both are under HUD regulations. The properties are managed by a private management company, but Board members meet monthly to set policy and monitor the implementation of these policies. Current Mayflower members on the board can be found at www.medamembers.org.